08/06/21Restaurant Pavement Barrier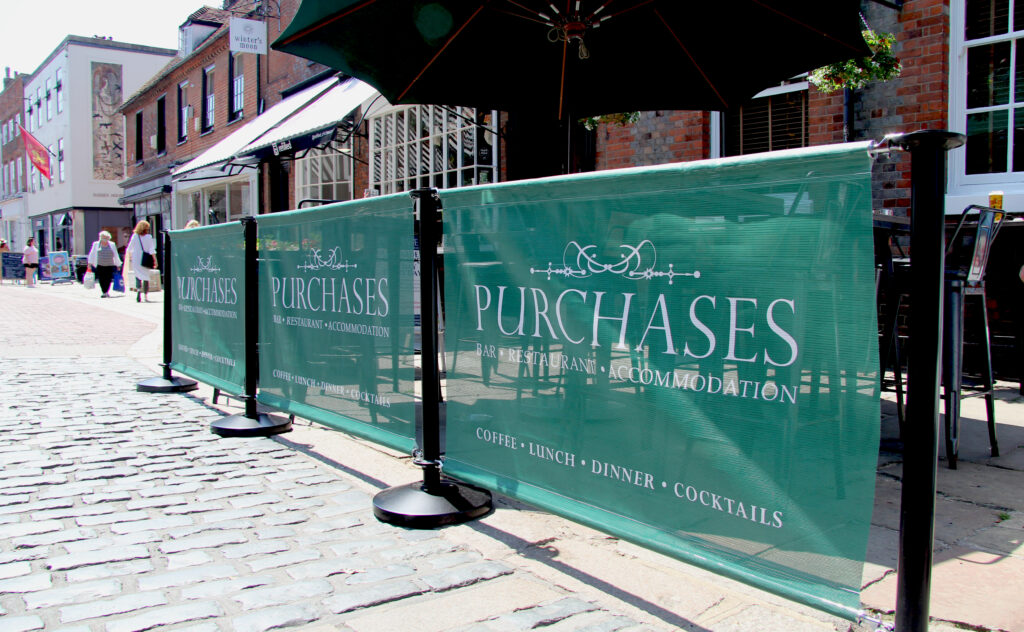 Purchases Chichester Restaurant Pavement Barrier
Just installed this lovely Restaurant Pavement Barrier for Chichester Restaurant Purchases. Profile designed and produced this 4 banner system that features AirMesh banners that allow the wind to pass through without any damage!
Firstly, Profile Design produced a wide range of branding and sign products for Purchases. We just completed this pavement barrier system. The banner system neatly frames the outdoor seating area at Purchases, a favourite with local diners in North Street, Chichester.
Restaurant and Café Barriers
Chichester has a pedestrianised centre. This makes it ideal for outdoor seating space for cafe's and restaurants. Firstly, a licence is required from Chichester District Council. The space to be framed is agreed. The result is that Purchases can create an intimate space for diners. As a result, pedestrians are not walking between tables which can be disruptive!
There are a range of Pavement barriers available from budget to high end. In this instance we were instructed to supply a higher end product. These feature double horizontal banner bars and a heavier base. This ensures they have a longer lifespan and retain their condition better. In conclusion, worth the extra.
Purchases in Chichester
A stunning boutique hotel with a renowned restaurant, cocktail bar & terrace, set in an immaculately restored Grade II-listed Georgian property, and located in the heart of a historic Chichester. Once a local wine merchants, this delightful 19th Century house is situated in the heart of Chichester. The beamed bedrooms, with en-suite shower rooms have fiber-optic broadband.
We have worked with Purchases on it's design work and website since it's inception. We created the distinctive logo as well as the exterior and interior sign work and glass etched graphics. The Pavement barrier is the latest addition which we feel enhances the overall feel of the building.
Chichester Signs and Graphics
Do contact us with any enquiries relating to signs. Interior or exterior, or request examples of our work which can be emailed.
---