09/11/21Pocket Folders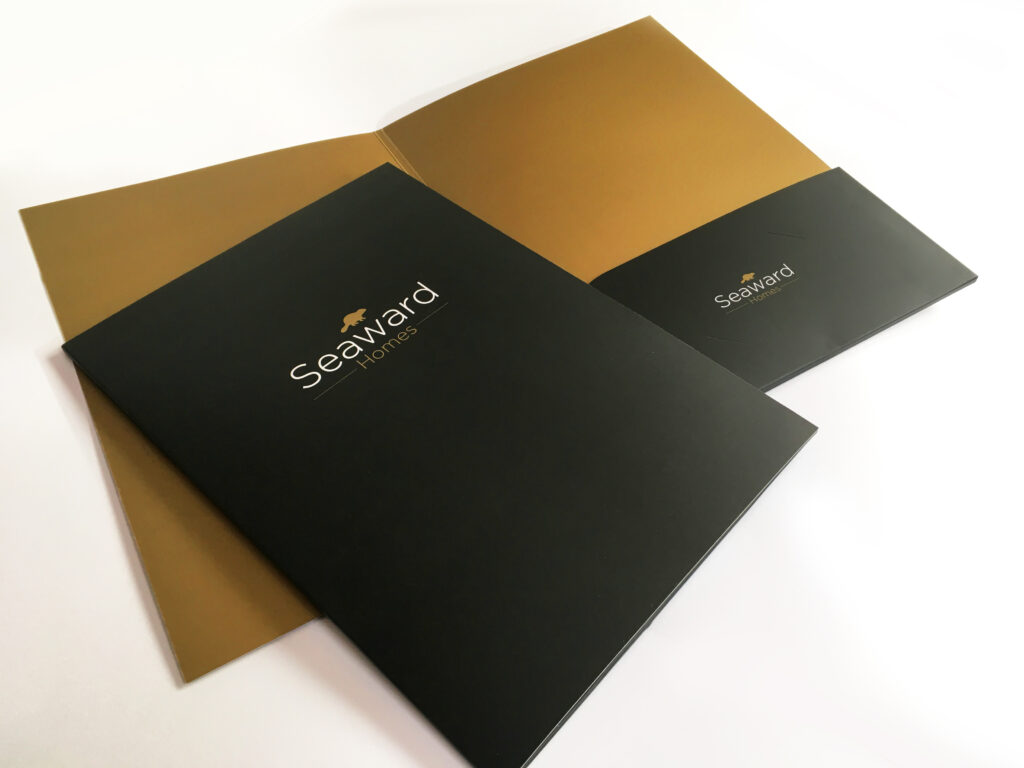 We have just delivered these very stylish Pocket Folders. Designed and produced for Chichester company Seaward Homes.
Pocket Folders
We have over the years produced dozens of Pocket Folder designs for our clients. Folders can vary widely in their specification and can, depending on budget take pretty much any format. The usual format is portrait A4+ with a single gummed Pocket as these featured folders. The Pocket is gummed and along with the spine includes a 5mm gusset for extra capacity. The spine and gusset can range from none at all upwards.
Form Cutting
Once designed we need to create a master cutter guide for the printers and finishers to create a bespoke cutter from. There are standard and existing cutters available. In most cases we need to create a cutter to allow for specifics like; business card slots, rounded corners, specific pocket sizes and shapes etc.
Folder Printing
For these particular Pocket Folders that feature large areas of solid colour there are 2 options. We could print in 4 colour process (CMYK) which is the slightly cheaper option. Or as in this case, print in spot Pantone colour. The deciding factor in this case was a technical issue. Printing large washes of solid colour in 4 colour process can risk a slight banding appearance in the colour. This is caused because solid areas of certain colours can be hard to match and keep consistency over a large area with four colour process, because the colour is made up dots of four different colours being combined.
With spot colour printing you are printing in 1 mixed up colour (no dots!) Spot colour also enables a more precise and predictable colour finish and matching. Also in this case Pantone colours include a metallic range so we were able to print a gold with a metallic feel. When trying to replicate a gold colour if CMYK you end up with a caramel type colour that gives the impression of gold.
---