02/03/12Chichester Bond Website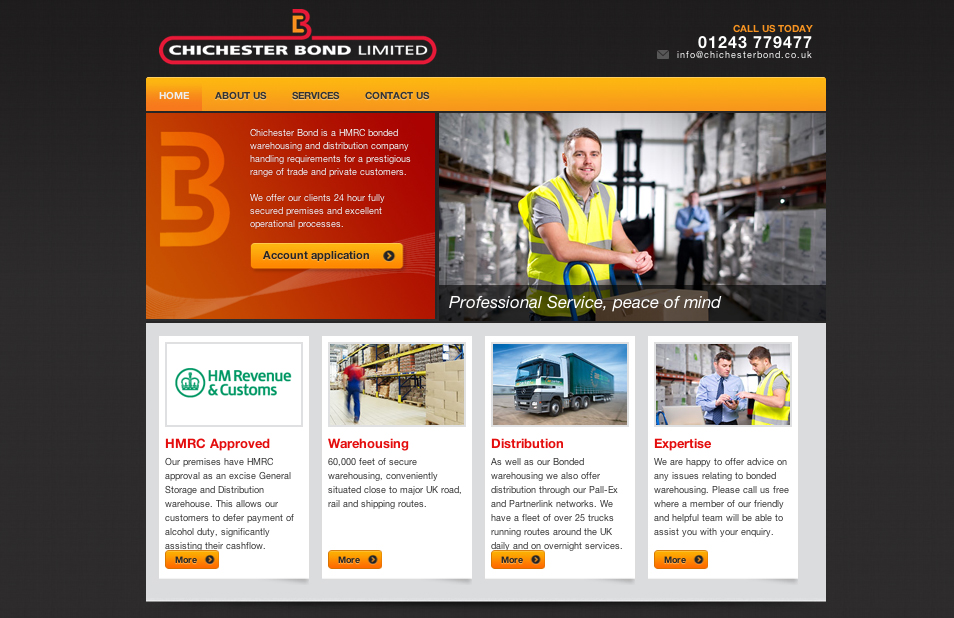 Profile Design are in the process of designing and building the Chichester Bond website. Watch this space for the latest developments on this work in progress!  visit website
About Chichester Bond
Chichester Bond have a bond facility to house and distribute duty free wines, beers and spirits within a 60,000 sq ft highly secure, extensively racked warehouse.
Ideally located to access the national motorway network and major airport and shipping terminals. The facility is approved and compliant with HM Revenue and Customs regulations as a general storage and distribution excise warehouse.
We pride ourselves on the quality of our service whether its procuring from our comprehensive bonded product range or alternatively storing your goods for consolidation and onward distribution. If you do not sell your goods within several weeks of obtaining them. You will have paid the import duty and VAT up front on all your stock. By using our bonded warehousing facility you can avoid paying this for a considerably longer period of time. Customers can take the opportunity to purchase their goods in bulk when exchange rates are favourable as they will not need to pay any import duty or VAT until the goods are moved from our premises.
Bonded warehouses give importers flexibility. If they are unable to get a good price for their products domestically, or they can't sell any at all, they can sell them for re-export without having to worry about the duties which would already have been paid. Our team of expert staff oversee the movement of goods through our Warehouse Management System for all the bonded warehouse stock, ensuring all paperwork is completed correctly to HMRC regulations. We can offer advice on bonded warehousing and how it operates in conjunction with HM Revenue and Customs.
As well as Bonded Warehousing, Chichester Bond also offers a range of other professional services including:
Distribution Logistics
Stock Control
HMRC Compliance
Non Bonded Warehousing
---