31/10/12Annual Review Bridge2Aid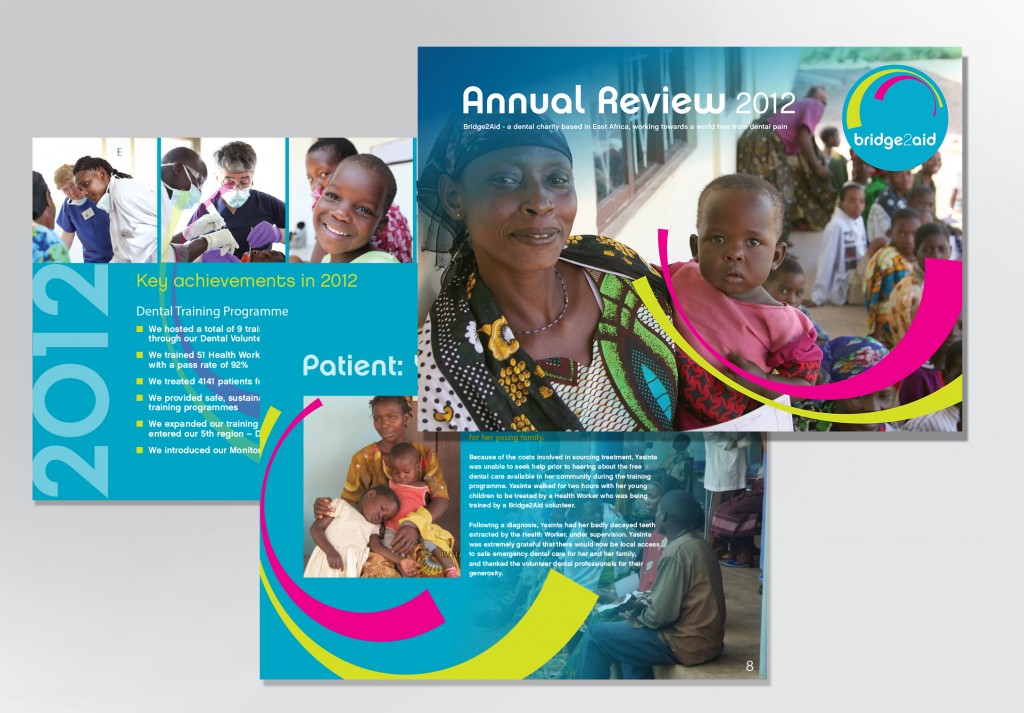 Annual Review design
Recently completed is the very visual Annual Review for leading dental charity Bridge2Aid. With striking photographs and the amazing work of the charity, inspiration for design comes easily. We agreed on an A4 landscape brochure to further exploit the excellent images. The 24 page annual report was printed digitally on 200gsm silk art paper and wirobound.
The design uses strong solid colours from the brand palette and reversed out text either from solid background or from ghosted images. Copy was kept to a minimum as this really was a case of a picture painting a thousand words.
Alongside the annual review Profile design also produced a range of flyer designs, brochure and leaflet designs as well as providing print management and sourcing of Pull up banner displays and a pop up exhibition stand.
Who are Bridge2aid
Bridge2Aid is a dental charity bringing hope to thousands of dental patients in Tanzania. Their training programmes provide free emergency dental treatment clinics in remote rural areas, providing much needed help to people who have been in pain for months and years. So far they have treated more than 28,000 people.
To create sustainable access to basic dental pain relief, Bridge2Aid focus on training existing Health Workers, who play an essential role in African countries. They perform 60-80% of a doctor's tasks but can be trained in half the time and for reduced cost. They are trained to serve their communities with simple emergency dental treatment.
Pain is the priority. The World Health Organisation calls access to dental pain relief through extracting affected teeth a 'fundamental right' and yet it remains unavailable to three quarters of the world. There is an urgent need to focus on providing pain relief through extraction and education to prevent future problems.
The goal is to extend the reach of training programme across Tanzania and also into other counties in East Africa. 
---