22/02/11Sue Vaughan website launch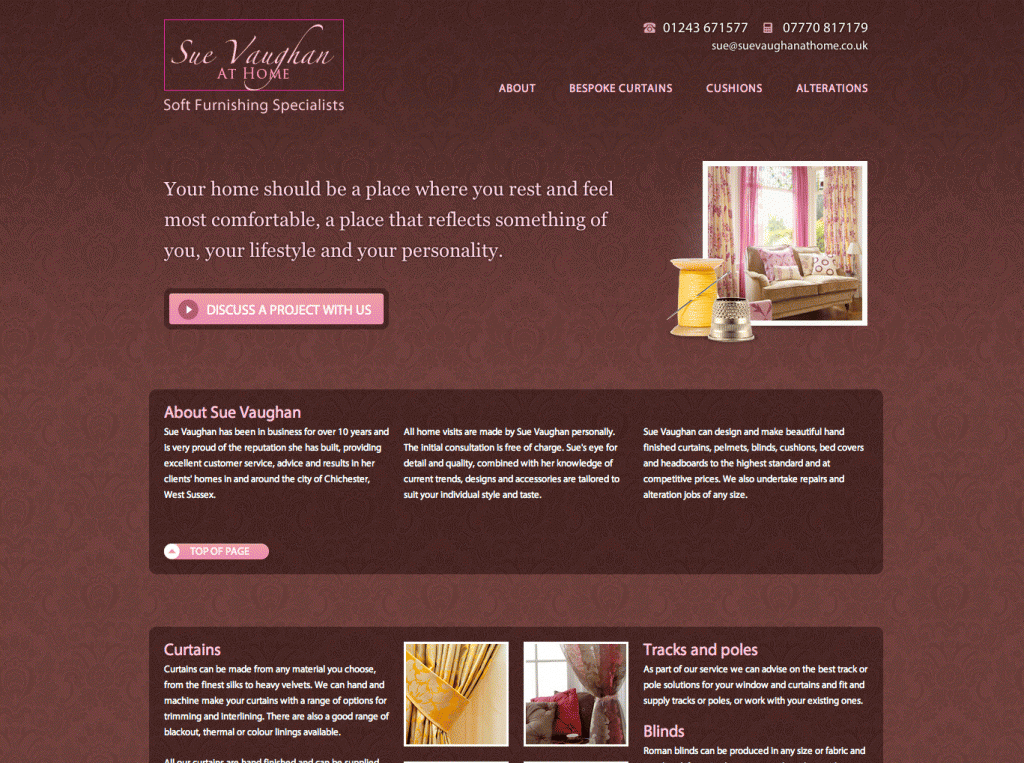 Sue Vaughan
Having completed an introductory brochure for Sue Vaughan at Home soft furnishings, Profile Design were commissioned to design a simple website to complement the printed materials.
Once again, we have made use of some exciting new Web technologies, such as HTML 5, CSS 3 and font replacement to ensure that the typography is rendered consistently across browsers (through the phenomenal Typekit service) and numerous JavaScript enhancements to further add a degree of polish to the presentation.
So far, the website is very much an "online business card" to provide visitors with information about the services Sue offers, such as curtain making, upholstery and alterations – however, it has been developed that it can be added to with the utmost ease at any time.
About the company
Sue has been in business for over 10 years and is very proud of the reputation she has built, providing excellent customer service, advice and results in her clients' homes in and around the city of Chichester, West Sussex. All home visits are made by Sue personally. The initial consultation is free of charge. Sue's eye for detail and quality, combined with her knowledge of current trends, designs and accessories are tailored to suit your individual style and taste.
She can design and make beautiful hand finished curtains, pelmets, blinds, cushions, bed covers and headboards to the highest standard and at competitive prices. We also undertake repairs and alteration jobs of any size. Curtains can be made from any material you choose, from the finest silks to heavy velvets. We can hand and machine make your curtains with a range of options for trimming and interlining. There are also a good range of blackout, thermal or colour linings available. As part of our service we can advise on the best track or pole solutions for your window and curtains and fit and supply tracks or poles, or work with your existing ones.
---