08/01/20School Prospectus Design Prebendal Chichester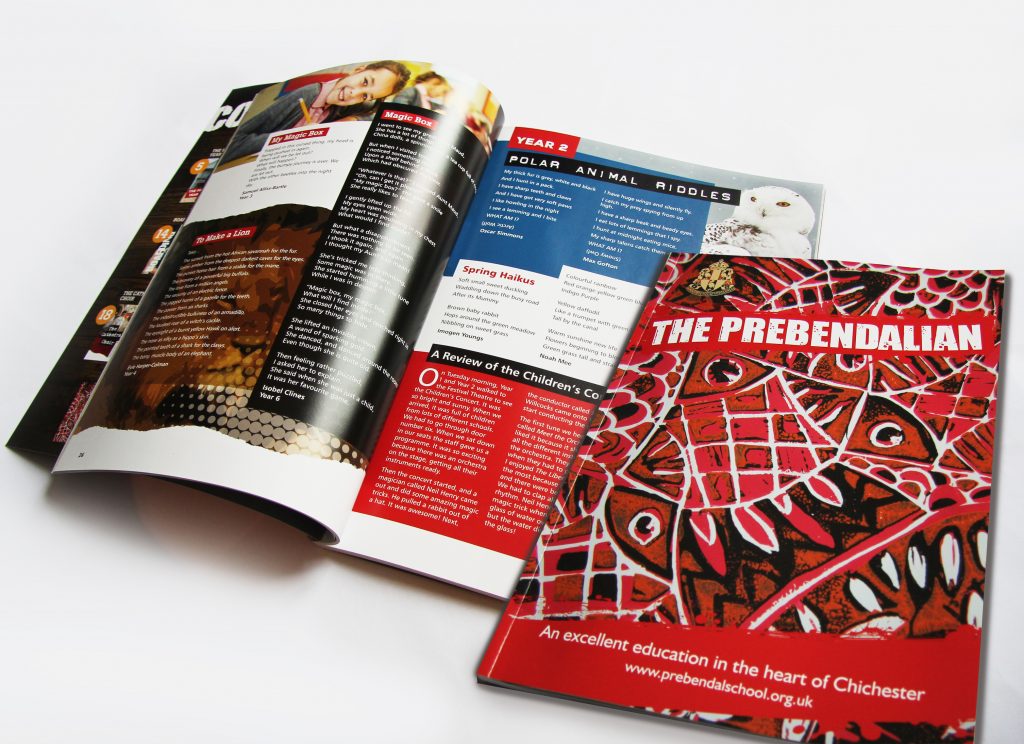 Profile have just produced the School Prospectus Design for Prebendal School Chichester. The prospectus also includes 'The Prebendalian' which is the annual Newsletter for the school.
Prospectus Production
Combining the School prospectus design with the school newsletter created a substantial brochure of 80 pages. The printed version is perfect bound with an 8mm spine. The client requested that the two elements of Newsletter and Prospectus are back to back and flipped 180 degrees. The prospectus one half and the newsletter design the other half.
Newsletter Design
The School newsletter design has a youthful magazine style. The design includes comic book style splashes of colour. Text blocks and large images with irregular borders all designed to appeal to students. The Newsletter is a record of the life of the school for the past year.
Prospectus Design
The School Prospectus design complements the Newsletter design but is much more refined and formal. The design features a consistent typography and text style and a clean 2 column layout style. Large images and cut-out images are still used but the style is much cleaner. The prospectus has a very different audience to the School Newsletter but we feel both sit well together.
School and College Prospectus designers
Profile Design have worked on a number of School Prospectus, College Prospectus and University Prospectus Design projects during our history. We have worked in the public and private sector. Alongside the design and print of prospectuses and newsletters we also provide photography and copywriting services.
School Prospectus Print
Profile Design can either provide a complete design and print services for schools and colleges. We manage and source the print from our partner suppliers. This enables us to keep the quality and declines met effectively. If clients prefer they can of course source and manage the print element themselves, leaving us to work on the design and artwork
---