22/01/20Brochure Design and Print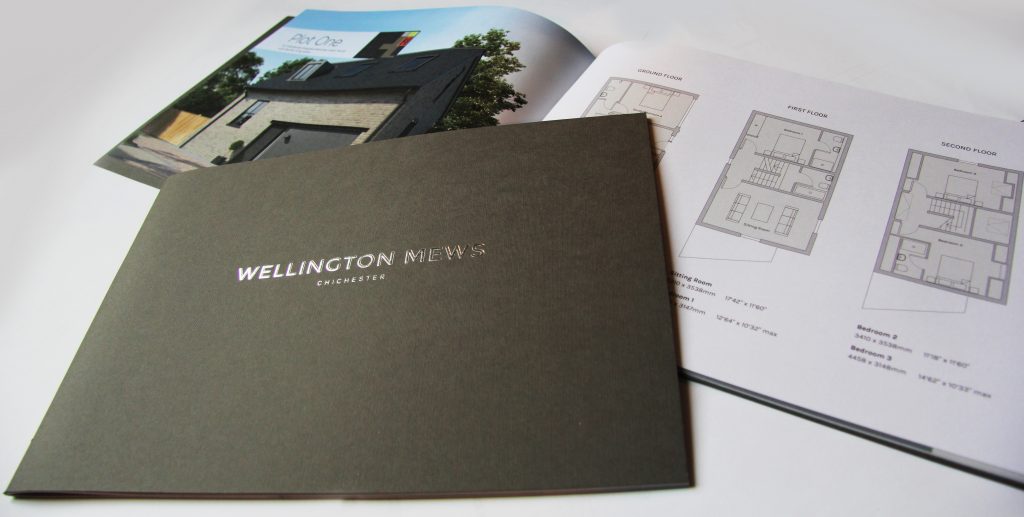 Profile Design's brochure design and print for Wellington Mews in Chichester is finished. The design features a silver foil blind embossed logo. The cover paper used is a 350gsm dark grey colorplan with buckram texture.
The text pages are 150gsm Olin Smooth absolute white.
Brochure design and print for Wellington Mews
The design for this brochure features an opaque flysheet on inside front and back covers. The A4 landscape brochure design was mainly visual. Profile Design provided some of the interior and exterior photography. Profile also supplied the illustrated maps and the floor plans for the brochure.
This is a high-end development, so it is important that the design style reflected the quality of the development and also contemporary style of the interior design.
Brochure printers
Profile Design Chichester, work with many local and national print companies. Part of our service to clients is print management. This involves us sourcing the most suitable print process for your project. When we decide on a print process and have the quantity required we then source the best print company for the project.
Print management
Profile Design Chichester, manage your project from the moment the design is finished and approved. We advise on the best papers and boards to be used. We advise on special finishes such as binding and folding options, laminating, embossing and foiling, UV varnishing and form cutting.
We liase with the printer, check proofs and inspect the project on machine when required. Profile arrange collection and delivery. we do add a small charge for print management which most of our clients consider a good investment as it saves them time and money.
Property brochure design
We are specialists in the design and production of brochures like photography, site hoardings – information signs as well as marketing materials for property developers in Chichester and West Sussex. We have also worked across Hampshire and Surrey.
www.elberry.co.uk/homes/current-developments
---