15/09/10Fox & Hounds Logo Design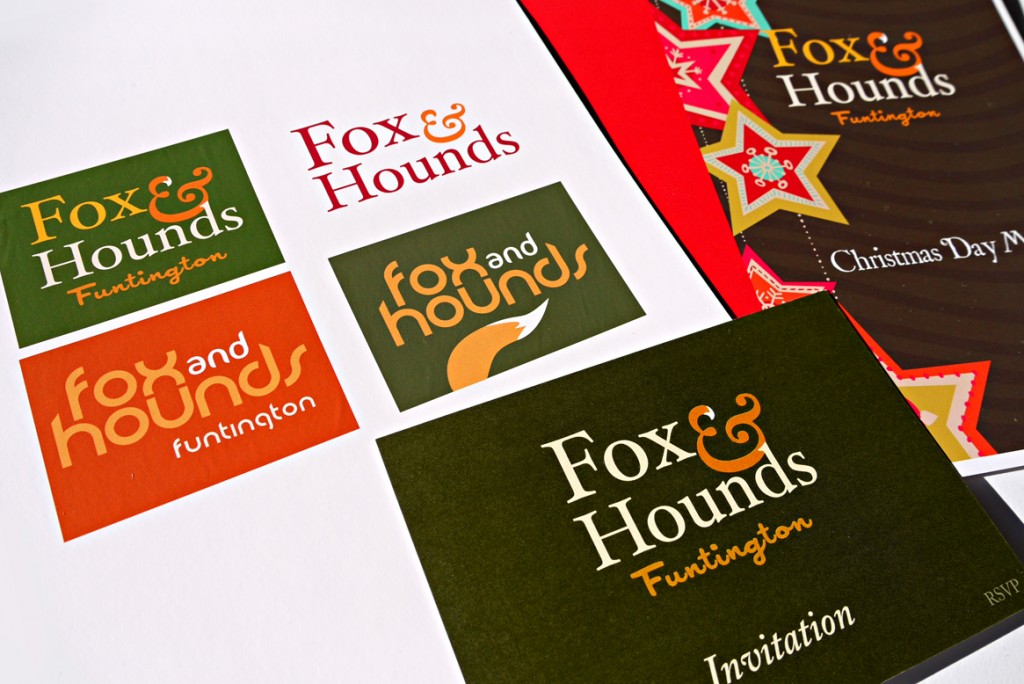 We were recently commissioned to work on new logo and branding for the Fox & Hounds at Funtington. The pub is an established part of village life and we wanted to keep the typography looking fairly traditional, after much playing with imagery of foxes and hounds we distilled the illustration element down to just the foxes tail. Eventually the only nod to the fox tail was creating an ampersand which looked a little tail like, this was orange with a white tip – overall a very subtle and effective logo with a visual device that could be utilised on other marketing materials and a website.
Once the logo was agreed we set to work (on a 2 week deadline!) to produce exterior signage designs, which were in keeping with tradition being hand painted by a local sign maker, designing and printing invitations to the launch, design, artwork and print of business cards, design and print of menu's and supplying some ABoards which we also created posters for
So far the re-brand has been very well received in general…and most importantly by the regulars from the local community!
About the fox
The Fox & Hounds is located in the charming village of Funtington, West Sussex, and within close proximity to the historic city of Chichester and was first listed as a public house in 1878.
This delightful building and garden was fully renovated in 2007, with the intention of sympathetically maintaining as many of the period features as possible, while at the same time creating an inviting and comfortable space in which guests can enjoy the wide range of reasonably priced drinks and food come rain or shine.
The Fox & Hounds benefits from a truly fortunate geographical position, with the coast and its beautiful sandy beaches (such as West Wittering) a mere stone's throw southwards, and the stunning South Downs National Park directly to the north.
---