01/06/11Bridge2Aid branding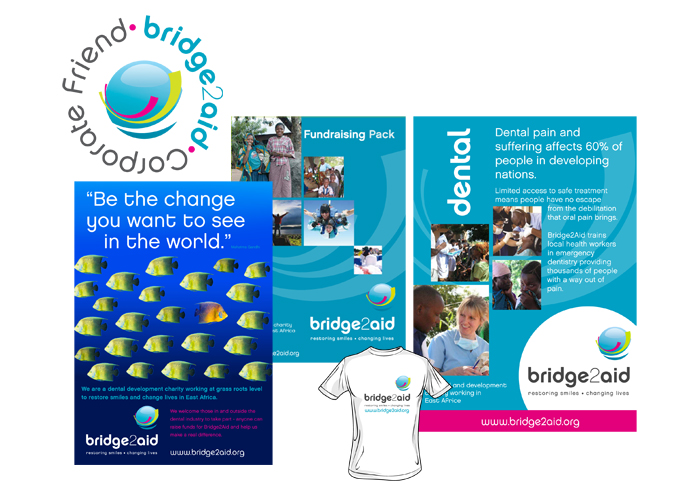 Branding
We have just completed the re-branding of materials for the dental Charity Bridge2Aid.
Bridge2Aid have been a client of ours since 2002 and we are very pleased to be associated with them and the amaziork they do in East AfricaB2A work closely withthe Tanzanian Government to deliver aspects of their dental strategy, operate a not-for-profit dental clinic in the city of Mwanza, and have a community development programme for the poor.
Our involvement with B2A has involved the design, print and production of a variety of materials including; Logo and branding, brochure design, exhibition design, fundraising and application packs, flyers and T shirts, vehicle graphics and much more.
Bridge2aid story
Bridge2Aid was established by founders Ian and Andie Wilson. The pair met in Tanzania in the mid 1990s as Ian made short term dental visits and Andie helped to build an orphanage in the Mwanza region. Ian and Andie were later married in the UK but shared a strong desire to return to Tanzania.
2002 – Bridge2Aid is founded
Having met in Tanzania during the 1990s, Ian and Andie Wilson found Bridge2Aid and return to Tanzania with their young family. They begin working with Bukumbi Care Centre – a care centre set up by the Tanzanian government during the 1970's for People Affected by Leprosy and other disabilities. The Wilsons also begin discussions with local and national government and other agencies concerning the need for dental services.
2003 – Bukumbi Care Centre
Refurbishment begins at Bukumbi Care Centre and becomes the focus of Bridge2Aid's Community Development work. Teams from the UK visit a few times a year to refurbish the living accommodation, health centre, community block and local school. This gave the residents a clean and safe place to live in dignity.
2004 – Hope Dental Centre Opens
Hope Dental Centre opens in October of 2004 and operates on a unique self-funding basis. Now seeing over 280 paying patients each month, all the profits are used to help fund Bridge2Aid's operations in Tanzania.
2004 – Dental Training Programme is created
With a team of 2 volunteer dentists and 1 volunteer dental nurse, a pilot programme is held in October 2004. This is the beginning of our Training Programme for Health Workers.
2005 to 2007 – Dental Training Programme grows
Eight programmes, relying on the expertise of volunteer dentists and dental nurses, run in rural areas of Northern Tanzania training Health Workers in emergency dental care.
2008 to 2011- The Dental Team expands and the Programme develops
The number of volunteer teams increase, the Programme expands to new areas of Northern Tanzania and in-country partnerships are established.
2012 – Community Based Rehabilitation (CBR) Committee is established at Bukumbi Care Centre
The establishment of this committee is an encouraging sign that the government is planning to build on the work that has already been done and are taking responsibility for the future of the community. The CBR at Bukumbi is at the heart of Bridge2Aid's own Corporate Social Responsibility.
2012 – Expansion of the Dental Training Programme within Tanzania
Up until 2012, the first 23 training programmes were focussed around Lake Victoria. In January of 2012, we ran our first pilot programme from Dodoma, in the centre of Tanzania. This pilot programme ensures that the programme can, realistically and reliably, be transferred to other areas of Tanzania and further afield.
2013: A first for Bridge2Aid. An international pilot programme is hosted in Rwanda. 
Now running more training programmes than ever before, Bridge2Aid's teams grows both in the UK and Tanzania, and enables the charity to create a three year strategic plan outlining that 366 Health Workers will be trained in the next 3 years alone. A pilot training programme is hosted in Rwanda – the first outside of Tanzania. 3 million people in rural East Africa are now living with access to emergency dental care because of Bridge2Aid's proven training programmes.
---