15/07/20MNWB Annual Report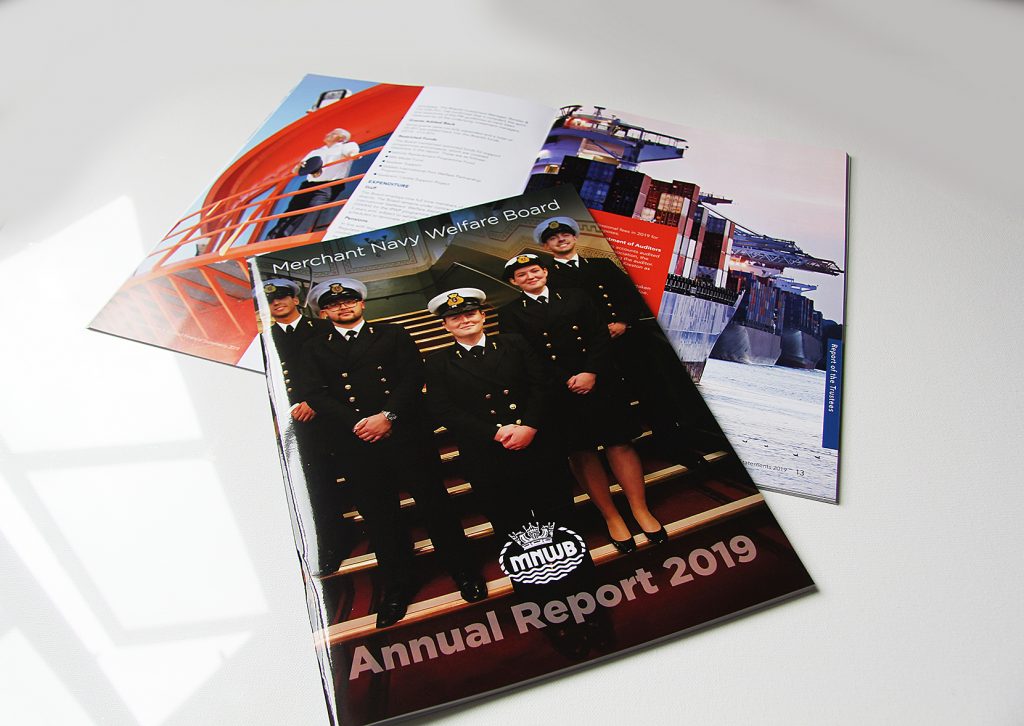 Recently completed is this MNWB annual report  for the Merchant Navy Welfare Board.
The MNWB supports and provides welfare services to merchant Seafarers, Fishermen and their families during difficult times. the volume of support, grants, training programmes as well as the many partnerships and collaborations that are working mean there is plenty of content to be included in the annual report!
Report design
There is a lot of text to include in this annual report design. Part of the brief was to make this report more visual than previous publications. Profile Design worked on layouts that featured complete and half page images that were interspersed between the various sections. Previous reports had always featured images of ships on the cover. We felt that featuring people on the cover was a better way to communicate the heart of what the charity does – help and empower people.
Report Print
The MNWB annual report is printed on 170gsm silk art for the text pages with a 300gsm cover with a gloss laminate. A4 portrait, saddle stitched. Profile Design do not have an in-house print facility. We print manage, we have a pool of excellent print partners who work with us. We ensure the artwork is print ready, organise and approve proofs and often check the live print run for quality. We act as quality control through the process and organise delivery. Clients can organise print direct of course, but most prefer us to manage the process for them.
Design trends
Annual reports have moved away from being the dry, figures led documents they once were. They now represent a vehicle to inspire stakeholders, using bold bright colours and layouts can communicate the vibrancy and energy of your business. Feature your people! Showcase staff and their achievements and stories, these can be inspiring and install confidence as much as healthy figures and stats. See the Annual Report as a marketing document. Make the design visual, use infographics and images alongside the bar and pie charts that will inevitably be included.
---